A Reputation 44 Years in the Making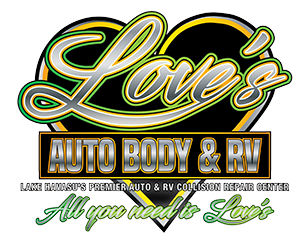 Love's Auto Body & RV is a family owned business since 1991 that has been dedicated to providing Lake Havasu and the surrounding areas with the highest quality auto and RV collision repair.
We recognize our biggest assets are our employees. The experience and knowledge, skill and thoroughness, each team member demonstrates daily, coupled with their desire to restore each auto and RV back to their original condition ensures our customers' respect. This respect is how we've earned your trust and our reputation as Lake Havasu's number one choice for auto and RV collision repair.
We are Lake Havasu's first ICAR Gold Class Shop, and currently Lake Havasu's only ICAR Gold Class Shop, and ASE Blue Seal of Excellence Shop. The highest standard training available for the collision repair industry.
Why Choose Love's Auto Body & RV
Superior customer satisfaction
Excellent reputation. Check out our validated customer reviews on garagefly.com
A+ Better Business Bureau rating
We use the highest quality paint and materials available
State of the art equipment
FREE Estimates + FREE Pickup & Delivery
We bake the urethane finish duplicating the manufacturer's texture and shine
Workmanship guaranteed for as long as you own your vehicle
Direct repair facility for most insurance companies
After establishing your insurance claim, we work directly with your insurance company to minimize your inconvenience, and maximize your satisfaction
Will assist in all your rental car needs
About Our I-Car Gold Class Shop
Gold class is the industry standard for training that contributes to complete and safe repairs. Our shop is among only 10 percent of collision repair shops to meet this rigorous standard. As a Gold Class Shop, we are required to train each of our repair technicians every year, and to have in house experts in each repair specialty needed for a complete and safe repair. We commit to Gold Class training because we are committed to your satisfaction and safety.
About Our ASE Blue Seal of Excellence Shop
ASE is well known for its industry leading certification program for automotive professionals. ASE certification means that a person has passed tough, industry developed exams. ASE Blue Seal of Excellence Recognition goes a step further by identifying those establishments which have a large percentage of certified professionals and a certified professional in each area of service offered. It's a commitment that earn only the best establishments, the recognition to stand out from the crowd. Look for this bench mark of automotive excellence – Blue Seal of Excellence Recognition, only from ASE.
Ready For Quality Auto Body Repair?
Fill out our online quote form for an estimate!
CONTACT US
GET QUOTE